Rural, secluded, panoramic view over Montepulciano valley.
Le Capanne di sopra.
Located 1.4 km from the historic village of Montefollonico, the site enjoys a splendid panoramic view above Montepulciano valley and its XV century temple of Saint Biagio.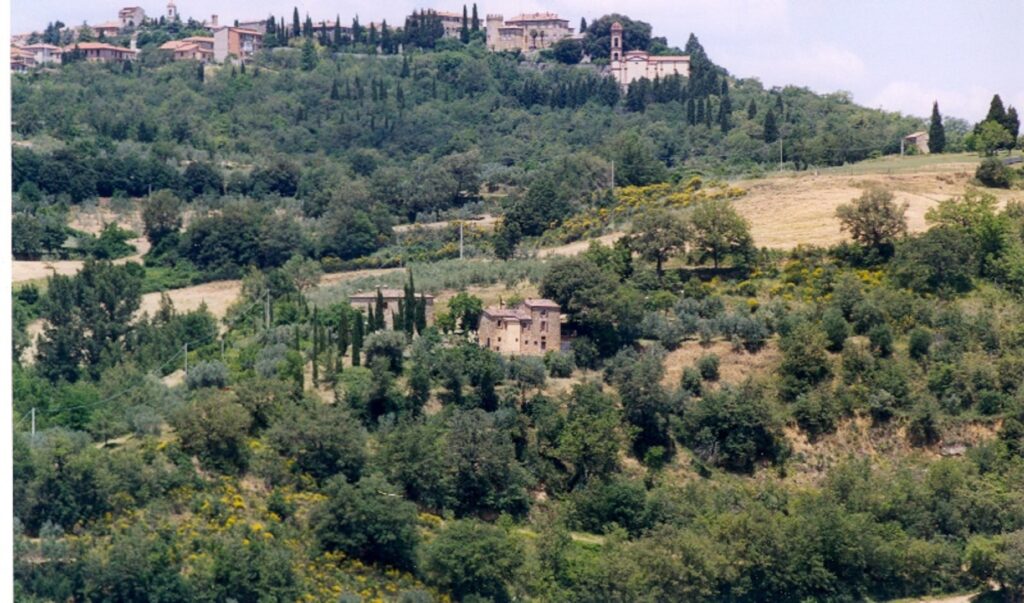 At 450 mts above sea level, the horizon widens onto the skyline of Montepulciano, the Val d'Orcia hilly border and top of Mount Amiata.
The two stone houses of the property have been restored in accordance with Tuscan tradition. Although closed one another, they are independent and assure absolutely privacy to residents. House Banditello (right) and house Mulinello (left). In the property there are 4 cats, with adequate shelter, well cared for and under veterinary supervision.
Some 400 meters from the bituminized road, the site remains secluded while accessible only via a private dirty road, ensuring that you'll be holidaying in the midst of olive groves, vineyards and woods.
The surroundings.
You will be in the middle of a region with sites of great historical and artistic interest, very closed: Montepulciano, Pienza and the Val d'Orcia (UNESCO World Heritage List), San Quirico, Montalcino, Chiusi, Cortona; a bit far away: Monte San Savino, Asciano, Siena, Arezzo, Assisi, Perugia, and Lake Trasimeno. In any case, within an hour and a half of driving, at most.
Spas and pools.
The closest thermal baths and spas are in S. Albino (7 km), Sarteano (15 km), Bagno Vignoni (16 km), Bagni San Filippo (20 km), Rapolano Terme(20 km). In no more than half an hour's drive, you will find public swimming pools in Montepulciano Stazione, S. Albino, Bettolle, Trequanda, Chianciano, Sarteano.
Weekley markets.
To find good local traditional food (always in the morning).
Monday:  Foiano della Chiana
Tuesday: Sinalunga, Montefollonico (afternoon)
Wednesday: Siena, Chianciano Terme, Siena, Monte San Savino
Thursday: Cetona, Montepulciano, Rapolano Terme, San Gimignano, Lucignano
Friday: Montalcino, Pienza, Sarteano, Torrita Di Siena
Saturday: Asciano, Buonconvento, Cetona, Montepulciano Stazione, Poggibonsi,  Bettole, Arezzo, Cortona, Sansepolcro.
Wineries.
Vittorio Innocenti Winery, Montefollonico
Fattoria dei Barbi, Montalcino
Contucci Winery, Montepulciano
Il Conventino Winery, Montepulciano
Tenuta Valdipiatta, Montepulciano
Casale Daviddi Winery, Montepulciano Stazione Cantina Crociani, Montepulciano
Gattavecchi Winery, Montepulciano
Az. Agr. Poggio alla Sala, Montepulciano
Cantine Gavioli, Chianciano Terme
Cantina Poliziano, Montepulciano
Cantina Avignonesi, Montepulciano.